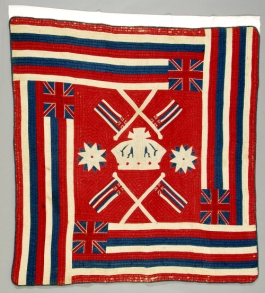 The first missionary companies from New England brought to Hawai'i the traditional art of quilting. Although the warm climate of Hawai'i did not call for the necessity of quilts, Hawaiians, as skilled weavers and kapa makers, quickly took to this new art form. The quilting techniques were taught to Kānaka Maoli women; first in informal social settings, and later as part of the mission school curriculum. Hawaiians learned this process and made it their own with distinctive modifications in look and technique.
Quilts, like the earlier malo and pā'ū, became treasured objects that were thought to contain the mana of the artisan. These items were often passed down in families or given as meaningful gifts. Beautifully hand-sewn quilts, like the traditional fine kapa, were often given as bridal offerings. Patterns for the quilts of Hawai'i usually centered on themes from nature. The incorporation of plants and trees, such as 'ulu and kukui, became dominant quilt themes. Certain designs and patterns were themselves treasured and kept within families.
In the latter part of the nineteenth century, another beloved object became a motif for the quilt, the Hawaiian flag. With the loss of Native rule increasing, representations of the Lāhui (nation) became powerful symbols of loyalty and calls for self-rule. Ku'u Hae Hawai'i (My Beloved Hawaiian Flag) was a popular quilt motif of this era. The first significant mentions of this patriotic design are in the 1870's, during the reign of King Kalākaua. Upon the overthrow of Queen Lili'uokalani in January of 1893, the Provisional Government ordered the Hawaiian flag lowered. Local newspapers wrote of hundreds of Kānaka Maoli wearing hatbands reading: "Kuu Hae Hawaii." Mele written about the people's love for their flag appeared in the Hawaiian-language newspapers. Like these other methods of resistance, the creation of Ku'u Hae Hawai'i quilt patterns became a significant way to express loyalty to the Hawaiian Kingdom and resist calls for annexation. Oral histories of this period mention flag quilts hung from the posts of loyalist's beds, allowing them to rest peacefully underneath the flag of their beloved nation. More than one hundred years after many of these quilts were created, their popularity, seen in the successes of recent exhibitions and museum displays, remains significant. For many, they still serve as an ongoing expression of love for the Hawaiian Kingdom.
The Bishop museum collection contains several examples of this powerful artistic statement, including the one shown here. This beautiful flag quilt was a wedding gift bestowed by Her Majesty Queen Lili'uokalani. Its pattern makes an especially strong statement, as the four small flags in the center of the quilt have their canton in the bottom left corner, which displays the flags as being flown upside down, the common nautical symbol of a nation in distress.
Location: Bishop Museum
Artifact Number: 2005.150.001