ʻA: The Racing Canoe of Prince Kūhiō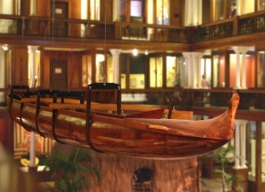 Hele 'e ka wa'a
The speed of a canoe.
Said of a fast traveler*
Ka'ahumanu was born of sacred rank. She was the hiapo (first born) of the high ranking ali'i Ke'eaumoku and Namahana. She linked strong Hawai'i island and Māui lineages. She was born in a cave at the fortress hill of Ka'uiki in Hāna, Māui and given a name to honor her glorious ancestor Kahekilinui'ahumanu. From birth, it was expected that this noble wahine would have a great affect on the kingdom and her marriage as favored wife to the conqueror Kamehameha was to assist in bringing about this destiny. A strong willed and intelligent woman, she would take charge at the death of her husband in 1819 and use her position to eliminate the 'Aikapu, order the destruction of heiau, and pave the way for a powerful new religion that was to arrive only months later with the coming of the missionaries to Hawai'i.
Much was changing at this time in Hawai'i. European and American traders, whalers, and adventurous capitalists came to seek their fortunes in Hawai'i. They took advantage of a new market hungry for exotic foreign goods, as well as an abundance of valuable Hawaiian resources and cheaply paid Hawaiian labor. Along with a new system of economics, these foreigners brought epidemic disease that devastated the Hawaiian population. Thousands upon thousands of Hawaiians died from Asiatic cholera, measles, the bubonic plague, and other illnesses, decreasing the population of Hawaiians dramatically from an estimated 800,000 at the time of Cook's arrival to less than 150,000 by 1832. Not only were Kānaka Maoli dying in mass, but the diseases also brought infertility, hindering the birth of a new generation of Hawaiians.
Arriving slightly later than the mercantilists were Protestant missionaries from Boston. When they landed in Hawai'i in 1820, they came upon a society in which the ruling Kuhina Nui, Ka'ahumanu, had recently abolished the 'Aikapu system that dictated the religious, social, and political laws of kingdom. These Protestants were in a unique historical position to influence the very core of Hawaiian society. They quickly realized that success among the masses meant first converting the powerful ali'i wahine (women rulers). Ka'ahumanu's conversion in 1825 and Keōpūolani's after, meant that the mission now had important allies and access to power.
Ka'ahumanu's Bible is an example of the kind of multifaceted changes and influence that the missionaries and other foreign settlers had on the structure of Hawaiian government, society, and religion. A large two-volume book printed in London in 1817 and gifted to the high chiefess Ka'ahumanu, it is a prime example of the attempts made to convert the Ali'i class to Christianity. These Protestants quickly became the new "kahuna;" spiritual and political advisors to the high chiefs. They affected change in Hawaiian law to fit Christian doctrine, and made 'Ōlelo Hawai'i into a written language so that the Bible could be imparted to the masses. Missionary schools were opened throughout the islands, accelerating Christian conversion rates and teaching Hawaiians to abandon their own culture for "civilized" Western ways.
Even in this time of great outside influence, Native practices and culture did endure. Hawaiians became adept at indigenizing foreign musical instruments, foods, and political structures. When the written word was introduced to Hawai'i, Kānaka Maoli learned quickly and extensively, making Hawai'i one of the most literate nations in the world. They adapted to new media technology, publishing their own writings and histories in newspapers run by Kānaka Maoli at astounding rates.
Location: Bishop Museum Library
Call Number: BS 185 L84 1817 l.c. vol. 1