Lahainaluna Student Composition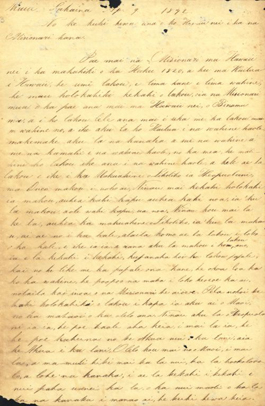 No ke Kuhi Hewa ana o ko Hawaii Nei i ka na Misionari Hana
The American Board of Commissioners for Foreign Missions sent the first group of Protestant missionaries to the Hawaiian Islands in 1820 with instructions to raise up "the whole people to an elevated state of Christian civilization…" The three methods to be used to fulfill this lofty goal were preaching, teaching and printing. All three of these powerful influences came together at Lahainaluna Seminary. Initial success converting ali'i through private audiences led the mission to move on to a plan for mass conversion through Christian-based education. Mission teaching groups soon proliferated. The mission now sought to build a school to train Kānaka Maoli who could not only deliver the civilizing curriculum of the church as Native teachers and pastors, but whom also would be fit to fill positions as leaders in the quickly developing western-style government that some in the mission would help to shape.
King Kauikeaouli, through Ulumāhiehie (Hoapili), granted the mission land on which to build their training school and on Sept. 5, 1831 the first school west of the Rockies, Lahainaluna Seminary was built overlooking the town of Lahaina. In 1836, Lahainaluna became a boarding school as leaders saw a need to commit the students to the school grounds in order to remove them the from the "uncivilized" influences of their Native brethren. Some of the most prominent later historians, authors and politicians in Hawaiian society were among the first classes at Lahainaluna. David Malo, John 'Ī'ī, and Samuel Mānaiakalani Kamakau were early graduates. By 1850, when the school was transferred to the government, it had graduated over four hundred Kānaka Maoli who would exert a powerful influence over the political and social life of Hawai'i.
The students wrote essays, chants and produced other works that reflected the Puritan teachings that they were acquiring; often strongly castigating their fellow Kānaka Maoli for continuing to follow ancient traditions. The exchange of cultural education though, was indeed not a one-way operation, as some traditional Hawaiian ways of learning, such as using chants as memorization tools, found their way into the pedagogy of the mission curriculum. Interestingly, both Samuel Kamakau and David Malo would later become disenchanted with aspects of the mission; with Kamakau converting to Catholicism and Malo becoming a leader of resistance to foreign intrusion. When David Malo died he left instructions to bury his body above Lahainaluna, high atop Pu'u Pa'upa'u, far away from the rising tide of foreign influence.
Another extremely important influence of Lahainaluna School was its role in a mission press that would eventually turn out one hundred and forty million pages of material. In 1831 the mission sent its old Ramage printer from Honolulu to Lahainaluna. This printer, on Feb 14, 1834 would produce the first newspaper in Hawai'i titled, Ka Lama Hawaii. The Lahainaluna students under the direction of Rev. Lorrin Andrews had created a new site for Hawaiian-language voice that would lead to over 100 other Native-language newspapers. This archive would come to play a hugely significant role in the history of Hawai'i into the present day.
Location: Bishop Museum Archives
Call Number: HI.H. 107.03